Home
|
Company
|
Company Outlines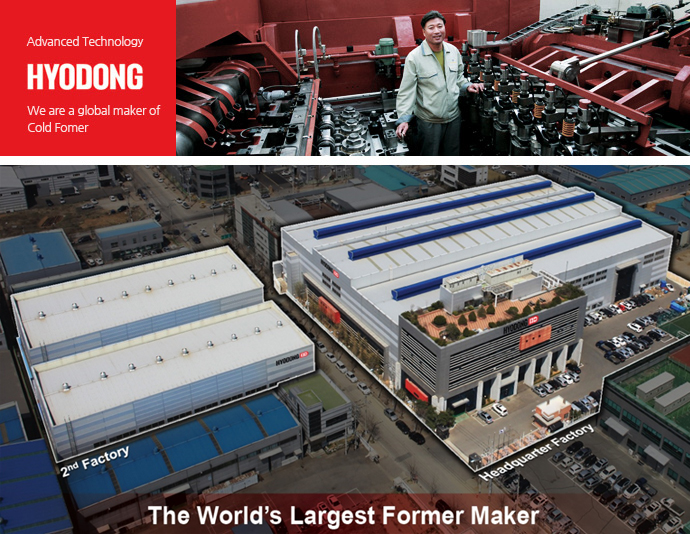 Hyodong Machine is a representative company that produces cold forging machines called 'former'. They produce nuts, bolts and all essential parts needed in industry fields such as automotive, electronics, construction and the energy industry.

Hyodong was founded in Yeongdeungpo in 1983 first called 'Hyodong machine manufactory' to produce rolling machines, pointing machines, heading machines in addition to a variety of forging machines. In 1990, Hyodong developed a multistage former for the first time in the domestic forging industry when it relied on expensive foreign made machines. In 1993, Hyodong made a technical aid contract with SAKAMURA as a result of recognized high technical skills. Combining SAKAMURA's advanced technology with Hyodong's unlimited possibility made Hyodong become the best former maker in the industry occupying over 90% of the domestic market share.

To produce a better quality machine for our customers beginning in the 21st century, Hyodong has tried to develop technology by investing in the expansion of the factory and high-tech facilities. As a result of its recognized high technical skills, Hyodong has been leading the development of high accuracy multistage formers through the development of 8-station formers at home for the first time, Automatic tool changing systems and so on. Since 2010, Hyodong has remained good export records to Germany, Japan, the USA, China and others with its technical skills. Hyodong is going to continue to produce machines to give deep satisfaction to our customers based on independent technical skills in the future.
Company Summary
COMPANY NAME
HYODONG MACHINE CO.,LTD
FOUNDED
1983.6.1
PRESIDENT

Mr. KIM, DONG SUB

CAPITAL
15 Million
EMPLOYEES
170 (2021.04)
PRODUCTS
COLD FORGING MACHINE (FORMER)
THREAD ROLLING MACHINE
HEADQUARTERS
97-17 Barangongdan-Ro 4Gil, Hyangnam-Eup, Hwaseong-Si, Gyeonggi-Do, Korea
FACTORY 2
97-12, Barangongdan-Ro 4-Gil, Hyangnam-Eup, Hwaseong-Si, Gyeonggi-Do, Korea
FACTORY 3
97-18, Barangongdan-Ro, Hywangnam-Eup, Hwaseong-Si, Gyeonggi-Do, Korea

Business Summary
A variety of nuts, bolts and parts are produced by formers and are mainly used for core parts in the automotive industry including construction, electronics, railway, shipbuilding and heavy equipment. Especially the parts such as bolts, nuts, steering and brake systems are forged to be completed by Hyodong machine's former through various secondary machining and post assembly processes. Also, basic or core parts such as large bolts for construction, micro bolts for electronics in various industry fields are combined and completed through Hyodong machine.